Are you thinking of applying for a new job, or are you starting a job for the very first time? If so, you probably feel overwhelmed when it comes to filling out your resume. However, you are not alone.
When applying for a tech job, representing yourself well and giving off a good impression is something that you should aim for. With many people applying for the same tech role, it can be difficult to stand out from the crowd.
When drafting a CV, it can be confusing to know what to include and what not to. However, there is no need to worry, as we at Klickstarters are here to help. For more information on the main do's and don'ts when drafting a CV for tech jobs, read on!
The Do's When Drafting a CV
There are a few things to keep in mind when writing your CV to ensure that you give off a good reputation and make a good first impression on your potential employer.
When selecting a CV, managers don't waste any time, so make sure that your CV meets the requirements of the job description by including any relevant experience. Here are some of the things to include when writing your CV.
Career Gaps
When writing your CV, it is important to include important information, such as your career gaps. This is because if employers see a gap in your CV with no explanation or reason as to why, then this may not reflect well on you as a person.
A simple, one-line explanation of why this is will do just fine. Doing this could reflect well on you as a person, as it shows honesty and professionalism.
Avoid Paragraphs
It is important to avoid writing in bulk when drafting a CV because a hiring manager wants to look at your CV without having to read through paragraphs before reaching the information they need.
In some cases, managers won't give a CV like this a second look as they have hundreds of applicants to get through. By writing sentences that are 2-3 lines long, you are more likely to attract the reader's attention.
The use of bullet points is important to make sure that your CV is easy to read. This is because recruiters prefer to look at a CV and be able to pinpoint key aspects that they are looking for within it.
List Important Skills at The Top of Your CV
Employers want to see relevant skills and experience when reading a CV to make sure that the candidate fits the job role.
When writing your CV, it is important that you list all important information along with your skills at the top of your CV.
It is important that you tailor your CV to meet the job application requirements. For example, if you have any work experience that is relevant to the job role, make sure that you include this information.
Many people fill the top of their resume with irrelevant information, which causes the recruiter to work harder to try and find important information about them.
This is not ideal, as some managers may just decide to move on to the next applicant as it is taking too much of their time.
The Don'ts When Drafting a CV
Now that you have a brief understanding of what to do when drafting a CV, it is important that you understand what you should avoid too. By following these tips, you'll come across as much more confident and professional. Keep reading for the don'ts of drafting a CV!
Don't Provide Irrelevant Personal Information
Personal information such as your contact details and email address are fine, however, employees don't need to know everything about your personal life, so don't share too much information. A good CV doesn't include your age, family situation, photos and marital status.
This is because you don't want your potential manager to use any of the personal information you have provided to negatively affect their hiring decisions.
Don't Write Your CV In Chronological Order
When writing a CV, make sure you put your most recent job role at the top. This is because if you write in chronological order, your CV may confuse the reader. So, you should work down so that your first job is located at the bottom of the page.
Potential employers want to see your work history as well as any gaps in your employment. Listing your jobs from the most recent to the oldest will allow recruiters to thoroughly understand your history.
Don't Include Grammatical Errors
It is important that when you are writing your CV, you proofread it before sending it to the employer. By submitting your CV without any grammatical errors, you are proving to the reader that you have good attention to detail.
If you apply for a job that requires good spelling and grammar skills, then this can go against you. However, if you are applying for a job within the tech industry, then this is not a massive requirement.
However, it is important to double-check your work at all times to make sure that everything is spelt correctly and there are no errors. This reflects well on you as a person if you take pride in your work and you will be more likely to be accepted into the job role.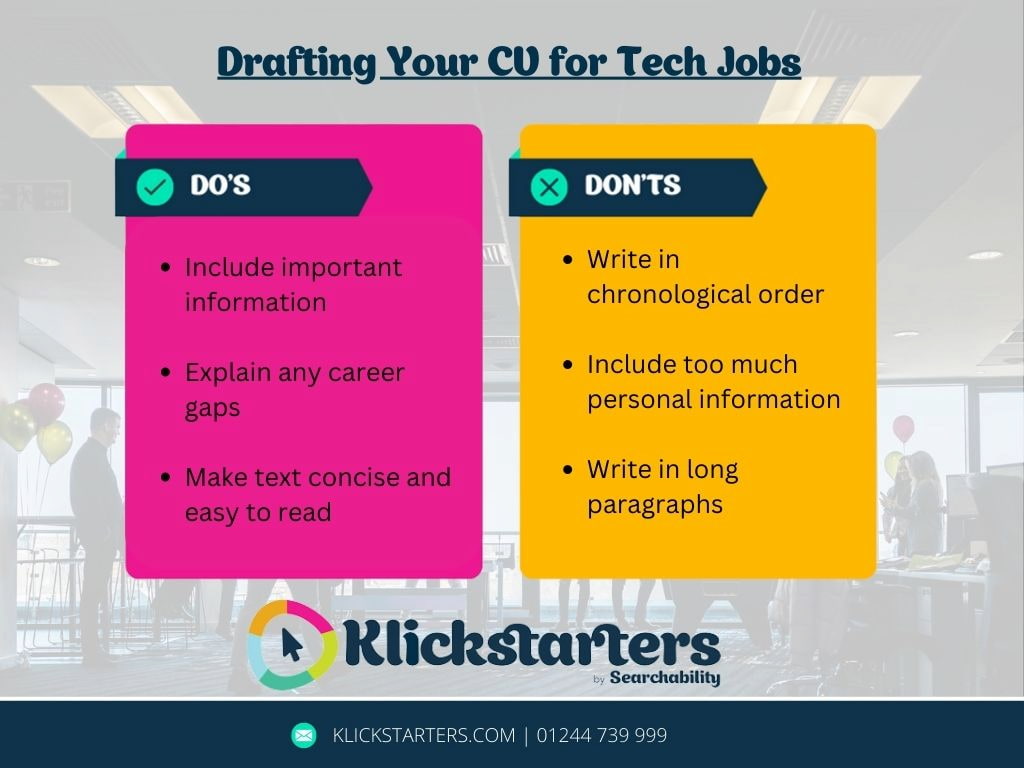 Klickstarters Can Help
Here at Klickstarters, we work by helping grads and juniors get their first job in the tech industry. We work with tech companies and people who are looking for a job by making sure that both parties are a perfect match for each other.
We are an award-winning tech recruitment brand that works by providing help and support to our clients. For more information on the services we offer, don't hesitate to contact us at 01244 739 999. We are more than happy to help!