After reflecting on 2022 and all you've accomplished, why not set yourself up for success in 2023 and make the most out of the first week of the year? This blog will give you tips and ideas on how to utilise your week and start the year how you mean to go on! Here's 8 tips for things you can do in week 1 of the new year to achieve your goals, shown in the visual below!  
Break Your Goals Down
You might not have that many goals for the year yet, or you may have tonnes of them. Setting aside time to mentalise all these goals and write down all that you want to achieve in 2023 helps you set realistic goals. Why not write them all down then decide which are realistic and which are more of an aspiration thing to achieve in the year.
This will allow you to set your focus and prevent you wasting too much time on things that aren't achievable or alternatively it'll allow you to manage your time around the goals to make sure you can maximise your potential in the new year! Breaking big goals into smaller stages are a great way to help simplify the process of achieving each and every goal. Then they're more doable, so you're less likely to give up/put off tasks when the end goal is in mind. It can be easy to procrastinate and overlook taking action to meet your goals for the year however if they've been broken down you'll be able to keep on track with regular progress.
Get a Planner or a To Do List
Similar to breaking down your goals and writing them all down to help organise them all, By having a Planner or a to do list like the one below it allows you to keep track  of all your progress and completed tasks no matter how big or small. It also highlights which tasks you're procrastinating and keep putting off completing and will draw your attention to it.
This is a good habit to get into to help set yourself up to be organised in the new year! Between New Year's celebrations and returning back to work / studying it can be quite hectic, so keeping track of what you want to achieve each day is a key way to make sue you're utilising your time right.
By writing something down it actually helps you to remember it easier so having a to do list each day or a dedicated planner for your tasks and goals will allow you to remember and keep track of what needs to be done.
Create an Inspiring Workplace
When setting yourself up for success in 2023, start the first week of the year out with a declutter. Organise your workspace., A tidy space to work = a tidy mind. Why not take a little bit of time out to fully organise and clean your workspace, after all you'll be spending plenty time there to ensure you're successful in 2023! Or maybeadd some plants or photos that inspire you, an organised, tidy workplace makes you feel more motivated and inspired to work. Meaning it'll be a far better environment to work in that somewhere all cluttered and uninspiring. This is something good to carry on with to stay organised.
Exercise Regularly
It's a well-known fact that exercise is good for you. So why not kick start your year with a new workout plan or morning walks to get your steps in! Finding time to work out and stay active in between lectures or work can be so beneficial. It's a great habit to get into in the first week of the year. Staying active also helps with your brain heath resulting in better memory and brain functions.
Make sure to Rest and get enough hours of sleep
Start Making a Habit of being early
Showing up to lectures/ work early boosts your cognitive and non-cognitive skills. It also allows you to get there in plenty of time to organise yourself. You'll also avoid rushing around and having to stress over being late. By showing up early you're setting a strong message that you're committed and dedicated to what you're doing. This will help to set you on the path to success. Developing this habit in the start of the year is a great way to get into being early for everything. Even if it's just by as little as 10 minutes earlier than planned . It'll allow you to have a routine and plan ahead for journeys to avoid any disruptions to your working day.
Learn a New Skill / Sign up for a course or certification
There're so many benefits for you to learn new skills. So why not kick start your year by setting out some skills that you'd like to obtain across the year. Below is a list of reasons why you should do this to help motivate you to learn  something new!
It'll motivate you to get up and out and give you a new sense of purpose.
It'll help cure any boredom in your free time as you'll have something new to focus on.
It'll keep you healthy as your brain will be active more and develop further.
It can open your prospects and job opportunities as you'll have more to mention on your CV
It allows you to be more flexible as you'll learn to adapt and grow to new things.
Your knowledge will remain relevant - you'll always be up to date with any new desired skills that employers are after.
You'll become more confident in your own capability
Many skills improve technology now so you'll also become more innovative with tech which will also improve your work quality.
By achieving new certifications and skills you'll be open to vast opportunities to expand your networks online through LinkedIn etc.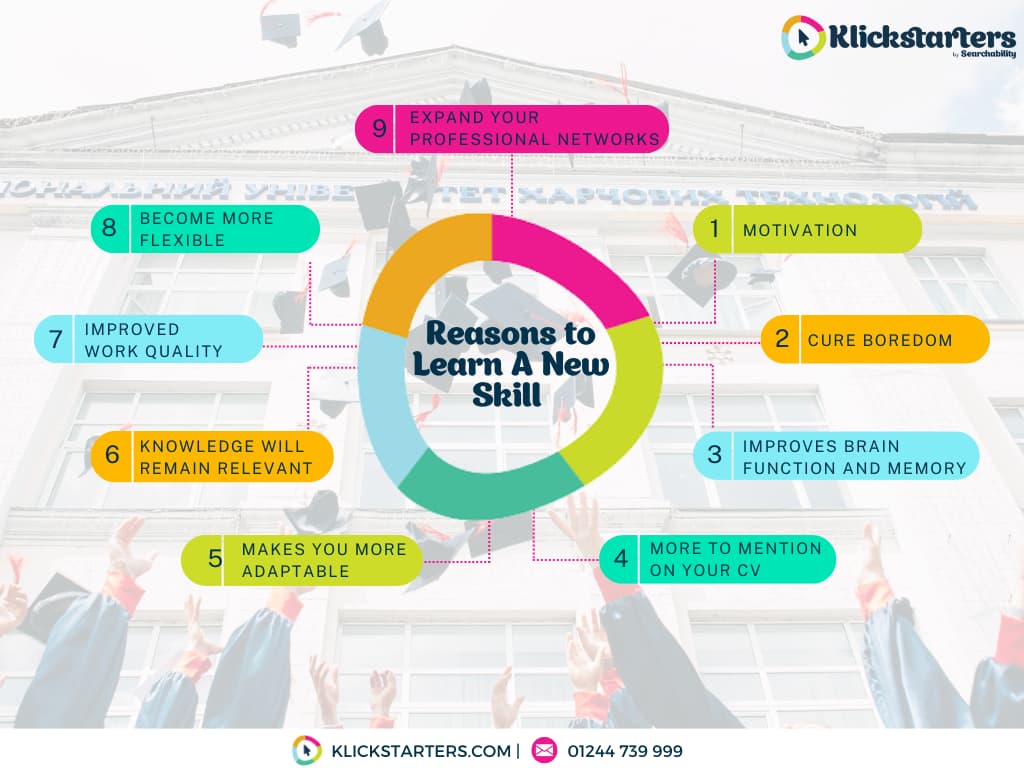 Now you should be all set for the first week ahead in 2023! These tips should help ensure you stay on track will all your goals and aspirations for the year. They will allow you to better yourself as a person through developing new healthier habits. These will all allow you to stay motivated and be productive as the year goes on.
If you're looking to maximise your 2023 by getting a graduate tech role: Get in touch will a member of our Klickstarters team at https://www.klickstarters.com/contact-us/ or alternatively why not drop us a call on 01244 739 999.