The digital and IT industry has a vast presence in the world, and technology plays a huge part in our lives. As graduates, it's likely you will have used digital technology throughout your academic career as well as in day-to-day life, whether it be through social media, gaming, and outdoor advertising or running a blog. There are many benefits to choose a career in the booming industry of digital and IT, and as a graduate there are many opportunities available.
1. Above average salary
Due to the intensity and knowledge required for a career in digital and IT, salaries are often above average. IT roles in particular will often have specific requirements therefore they will usually have a higher starting salary. Digital roles can have a lower starting salary in comparison, however there are more varied jobs available with plenty of opportunities to grow.
The average salary in an IT and digital role can vary, with a typical starting salary for a Digital Marketing graduate ranging between £18,000 to £22,000. However, IT roles have a considerably higher salary, with graduate IT Consultants starting with £20,000 to £30,000. Learning how to code and understanding the difference between Java and JavaScript may be a strenuous task, but highly rewarding.
Digital roles such as a Marketing Assistant often have graduate schemes, with entry-level salaries ranging between £18,000 to £22,000. With experience, the salary can increase to £30,000 for Digital Officers or Digital Coordinators. For more senior roles, the salary can reach up to £40,000. Benefits of working in digital include the opportunity for progression and the various roles, all of which have excellent salaries.
2. Booming market
The world is evolving into a tech-dominated place. Due to the rapid increase of digital technology, there is a huge demand for IT applicants. These roles are not limited to a strictly IT background – roles in digital can combine analytics with creativity. If you don't have an analytical mindset but enjoy working digitally and have a creative flair, consider a career in digital marketing. Roles in digital are amongst the fastest growing in the marketing industry, and most interviewers will consider applicants with any degree. Due to the extensiveness of the digital industry, there are many roles available and many of the skills are transferrable. Take JavaScript for example – the programming language is used globally and required for multiple roles such as DevOps engineering and UX experience. By being able to understand and use JavaScript, there are many roles available and in high demand.
As companies grow digitally, the demand for IT professionals increases alongside it. A huge benefit of working in the industry is that the world is always in need of IT professionals, meaning it's unlikely you'll find yourself struggling to find work.
3. Excellent life and work balance
It's no secret that employees in the tech and digital industry have many perks. In the digital and IT world, the leading benefit of having a career in this industry is the work-life balance, with companies having a progressive attitude towards employment. Some tech roles are freelance or don't follow a traditional 9-5 working day. Instead, companies allow employees to choose their shifts and work around their personal schedule. Take Google for example – they offer a hybrid work model where employees can work from home 2 days a week, as well as offering 4 weeks of remote work per year.
Tech companies will often make sure their employees are happy by offering many attractive perks. Discounted gym memberships, incredible food canteens, and excellent healthcare are a few examples of what companies can offer. Some even have days where bringing pets is encouraged! In terms of dress codes, forget suits and office wear – most tech companies enforce a smart/ casual dress code.
4. A degree isn't entirely necessary
The world of IT and tech may seem like a difficult industry to get into, however it's accessible for anyone. Certain IT jobs require a degree to be considered for a role, however it's possible to get into a digital role without one. A degree in Computer Science will be beneficial in helping you get a role in IT and digital. However if you have a degree in Marketing or English, some employers will still consider you as a candidate. As long as you show a willingness to learn, brainpower to understand the programmes, and an interest in tech, you'll be considered as a potential candidate. Don't be put off pursuing a role in digital and IT by not having a degree specialising in the subject. Tailor your CV to suit the role, as by having a degree itself will present to employers your diligence.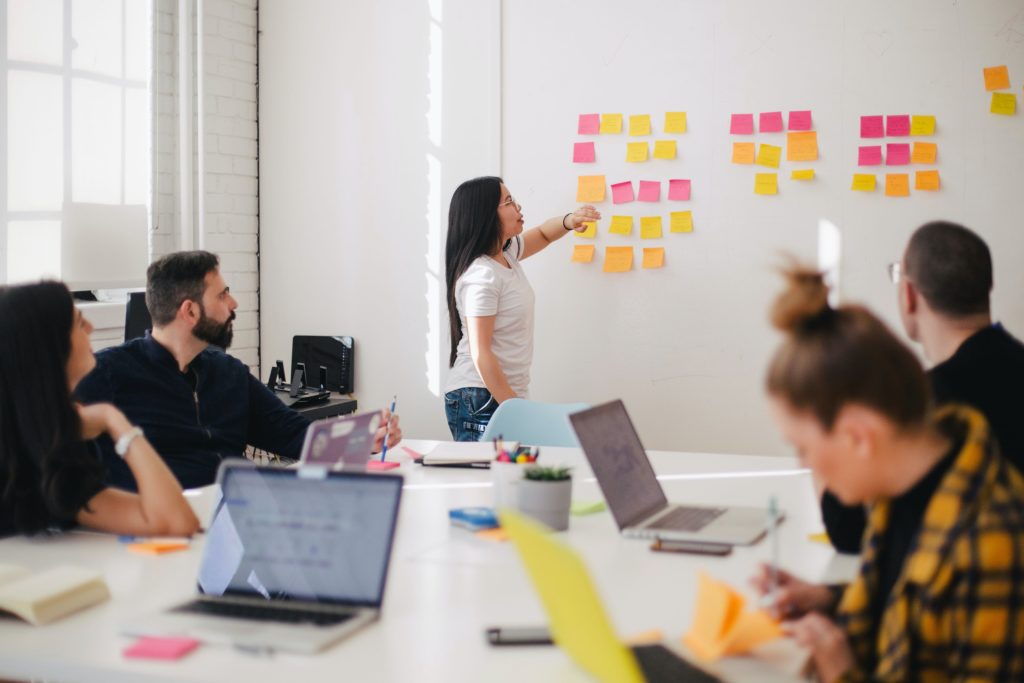 5. Diverse roles available in the digital and IT industry
When you think of working in the digital and IT industry, what comes to mind? A misconception is that it's full of coding and fixing computers, yet it's only a small aspect of the industry. The reality of the industry is that there are various roles available, all requiring different skillsets. IT roles including AI Engineers and Virtual Reality and Augmented Reality Specialists can offer employees an exciting and creative career. Into the languages of coding? There are many roles which use Python and Java such as Web Developers, Computer Programmers and Business Intelligence Analyst.
If you're interested in the digital side of the industry but not as interested in tech, there is marketing. Social Media Manager, Marketing Executive, and SEO Analyst roles are a way into the industry without holding all the coding and tech skills traditionally needed for a career in tech. As well as these business function roles, there is the creative side of the industry. If you're confident using Adobe software and possess a creative flair, Graphic Designers and Content Creators are always in demand!
A career in the digital and IT industry has many benefits for employees. Digital and IT roles can offer the balance between creativity and analytics, as well as excellent work perks and an above-average salary. If you're considering a career in digital or IT, get in touch with us at info@klickstarters.com.